Red tailed hawk eating its prey
by Carmen Jaray
(Kitchener, Ontario, Canada)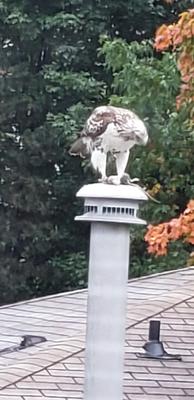 Red Tailed Hawk eating his prey
This is so special!

This morning on Sunday October 4, 2020 at 10:30 am I looked out of my kitchen window and saw this huge bird swoop by very fast.

I ran outside and saw a hawk that just caught a mouse. He had it in his claws and flew up to the neighbors roof with it.

I ran upstairs and was able to take a video and pictures from our bathroom window.

Unfortunately this site only allows pictures. The video is so much better.

Anyways, he stayed there until he ate the entire thing then flew away.

Wow! What a beautiful bird!