Red Tail Hawk in Mississauga
by Kathie
(Mississauga, Ontario, Canada)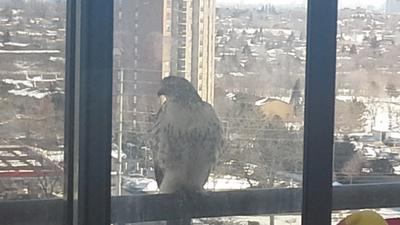 This morning what I thought was a Falcon landed on my balcony (Hurontario and Burnhamthorpe).


This large bird stayed put for 30 mins.
No sounds were made from him as he just sat perched and a few times buried his head in his wing (very windy on my 7th floor balcony).
I later discovered that this bird is actually a Red Tailed Hawk.