Possums in Kitchener in January
by Tiffany Taylor
(Kitchener, Ontario, Canada)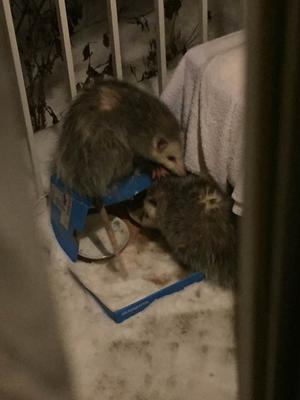 They like cat food!
Earlier this year I had been feeding a stray cat over the winter.

I even put out a little box bed with blankets inside to keep him warm over the cold snap we'd been having.

For about a week the cat stopped coming by.

Then one night I looked out the front and saw two possums eating the bowl of cat food and sleeping in his box bed!

They were two lucky Possums!

I will also post this on our facebook page.
Join in and write your own page! It's easy to do. How? Simply click here to return to Possum sightings 2018 & 2019.