Possum in Hastings
by Eileen and John Drain
(Hastings, Ontario, Canada)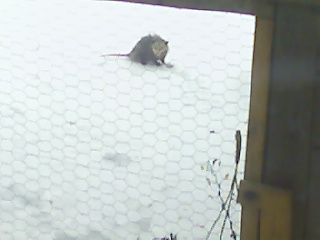 We have a Possum living next door to us.


It comes out during the day to eat the carrots we leave for the rabbits in our back yard.
We took pictures of it from our living room window and from our back deck.
Thank you for sending us your pictures and report of your Possum sighting!

I hope the poor little thing has somewhere warm to stay for the winter!
Join in and write your own page! It's easy to do. How? Simply click here to return to Possum sightings 2013.