Port Ryerse Garter Snake and Ms. Snapper
by Jim Sweetman
(Windsor, Ontario, Canada)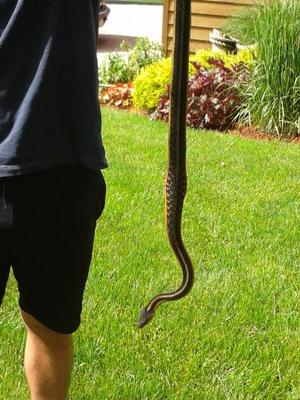 Port Ryerse Garter Snake
On the weekend of June 1st, this large and beautiful Port Ryerse Garter Snake ate a pesky mouse.

You can see the swelling about 25% of the way down. The animal was released in a wooden area nearby.

Ms. Snapping Turtle made a hasty decision to lay her eggs by this lonely country road.

Helpful humans relocated her nest, so that a heavy car would not crush her efforts.

Turtle egg incubation time is dependent on temperature.

Often snapping turtle eggs over-winter in the soil and are born early spring.

Thanks, Jim, for sending us this interesting report and pictures!

Join in and write your own page! It's easy to do. How? Simply click here to return to Ontario Animals.