THE OSPREY
(Pandion haliaetus)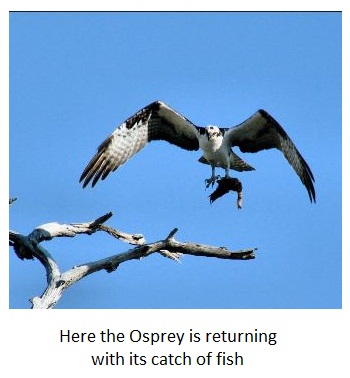 The Osprey is found throughout the world, and is often seen in Southern Ontario, especially during their fall migration when many pass near Hawk Cliff, south of St Thomas.
Sometimes known as the Fish Hawk, fish make up 99% of their diet and it is unique among raptors as it is the only North American bird whose diet is exclusively fish and its ability to dive into water to catch them.
Thankfully, their numbers have rebounded since DDT was banned and they are now at a healthy level.
In North America they breed from Alaska and Newfoundland in the north, to Florida and the Gulf states, and spend their winters in the southern USA, Cuba, Belize, Bolivia, Peru and Argentina.
The juvenile birds stay in their wintering grounds until spring of their second year, when they head north again.
Typically, males are smaller than their mates, and have a slimmer body and narrower wings.
These birds typically weigh between 2 - 4 lbs and have a 4 - 6 ft wingspan. The underparts of the bird are brown and the plumage of the head and breast, white.
The most identifying mark is the dark mast across the eyes, which is very distinctive.
These raptors have barbed talons which allow them to hold on firmly to their prey - however, this sometimes causes problems for these birds.
If the fish they have caught is too heavy for them to lift out of the water, the unfortunate bird may drown because he is unable to release the heavy fish, because the barbed talons will not release it.
They do have an unusual adaptation to their talons which helps them firmly grasp wet and wriggling fish - they have a reversible outer toe which allows them to grasp their prey with two claws forward, and two backward, and this way, the bird can line up it's fish dinner, head-first.
They can live a long life typically living for between 15 and 20 years.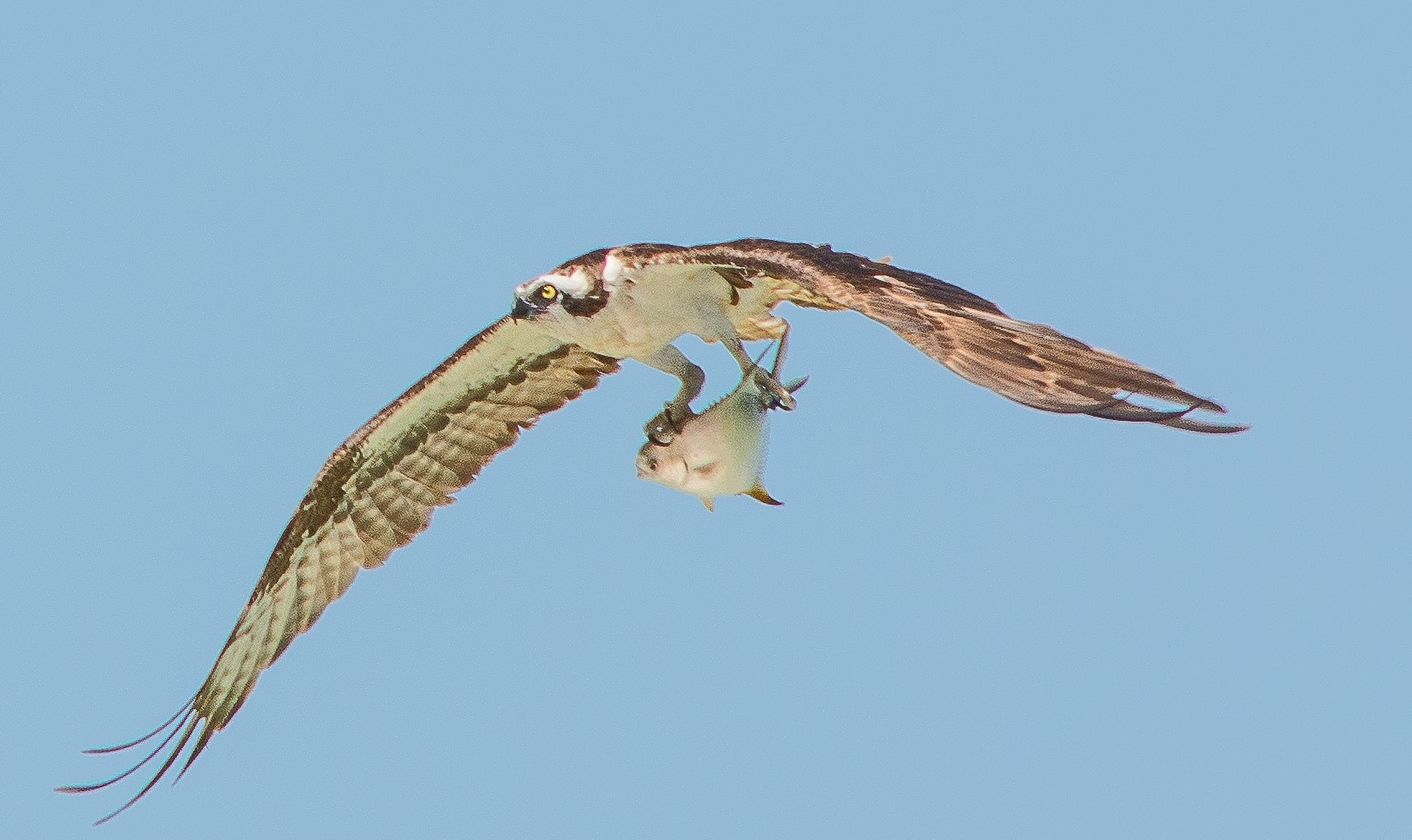 ---
---
Just recently, an Osprey flew past the deck where we were sitting at home, with a fish in its talons, and I don't know what was stranger - that we were able to see the look of concentration on the face of the bird, or the open-mouthed look of surprise on the fish!

Osprey Info ...
Cornell Lab of Ornithology - All about Birds - The Osprey
Thanks to Dreamstime for the use of the picture of girl in red shirt with books  4542997© Anatoly Tiplyashin| Dreamstime.com 

---
Here is an interesting video of an Osprey fishing for its dinner!

Do you have a great story about Ospreys in your area?
Have you seen Ospreys in Southern Ontario? We'd love to hear about it!
What Other Visitors Have Said
Click below to see contributions from other visitors to this page...