Opossum just north of Campbellford
by Jill Spooner
(Hastings, Ontario, Canada)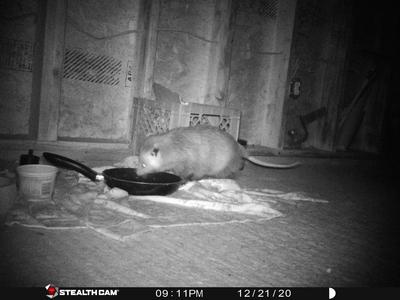 Peter Possum in the garage
I first spotted the little fellow under my bird feeders on Halloween night 2020.

He was staying underneath our barn, and came out at night to clean out the cat food dish in our garage, as his little tracks were very evident when the snow was on the ground!

I set up a trail camera in the garage and got some pictures of him. (I have named him Peter).

I hope Peter Possum survived the winter and is doing well!
Join in and write your own page! It's easy to do. How? Simply click here to return to Possums.