Motorcycling around St Thomas and Elgin County...
by Gerry Tayor
(St Thomas, Ontario, Canada)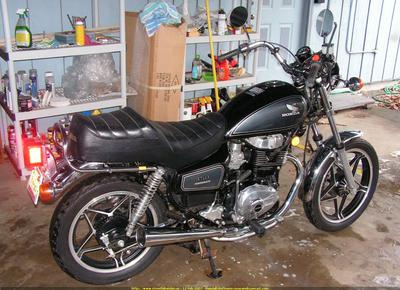 My 1982 Honda Looks Like This
Another one of my enjoyable times is motorcycling around St Thomas and Elgin County with my brother Larry.

The scenery is wonderful and riding during Spring, Summer and Fall is fantastic!

Whether we get on the motorcycles and cruise down Highway 45 from St Thomas to Aylmer, take Ron McNeil Line out toward Belmont or just take a trip to Port Stanley, Port Burwell, Fingal or other places on the back roads, we have a lot of fun and the scenery is beautiful.

It's especially nice in the fall when all the trees are changing colour. Anyone on a motorcycle will tell you ... on a motorcycle what you experience is different than it is in a car truck or SUV. You can feel "bands" of different temperatures as you ride along.

You can smell "strawberry fields" etc with a stronger scent.

Travelling through St Thomas and Elgin County is a real experience.

Toward the end of last year we got on the motorcycles and went out eastbound on Talbot Street, we never know where we will stop. On this occasion we went and had breakfast at The New Sarum Diner. Sometimes it's Johnny's in Aylmer. It may be the Country Charm Cafe or some other place in St Thomas!

What I'm trying to say is that there is so much to see around where we live in St Thomas, it's a great community to live in!

Thanks for sending this to us Gerry, I hope you have a great summer driving around St Thomas and Elgin County.

Back in the 1990s, my hubby and I had a Honda Goldwing and we too explored the area of St Thomas and Elgin County where we lived. We sometimes went down to the Tea Room in Sparta for lunch. Happy Days!
Join in and write your own page! It's easy to do. How? Simply click here to return to Ontario Travel Stories.