Large Bird, Huge Nest
by Dave
(London, Ontario, Canada )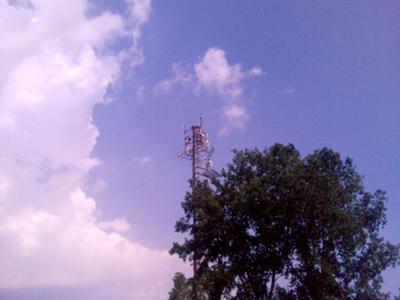 Cell phone pic, zoom in and you can see the nest

Today I witnessed a large bird of prey carrying what I thought at first was a snake, turns out it was a stick about 3.5 ft long, it actually dropped the stick before he made it to a massive nest at the very top of telecommunications tower in east London.
Not sure the species it was dark large wing span, wasn't a Turkey Vulture. It looked like an Eagle of some kind.
Thanks for your report of your sighting, Dave, this is really interesting for those of us who live in the London area - I wonder if it could be a Bald Eagle, as I know there are some nesting in the Fanshawe Park area.

Perhaps one of our readers might know ......

I will also post this on our facebook page so more of our readers can enjoy your pictures.