Juvenile Garter Snake takes a bath
by Jim Sweetman
(Puce, Ontario, Canada )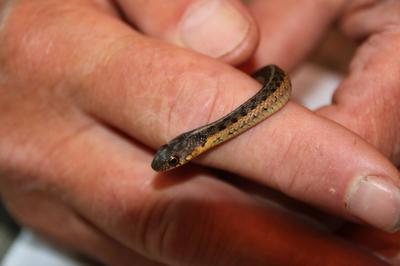 My new garden buddy.

I was working in my elderberries when this little fellow wiggled by.
I picked him up and noted that the posterior end had not shed.
I took him home and bathed him.
I noted two wounds on its abdomen.
The wounds have prevented the shed from continuing down from the head.
After soaking and removing the sheds I let him free in my garden.
Thank you for sending us your report and pictures, and bless your heart for helping this little creature!

I will also post this on our Facebook page where our Facebook followers can read this, and other articles about the animals of southern Ontario.