Horse riding at Sunnylee Stables
by Rebecca
(St Thomas, Ontario, Canada)
Last summer some friends and I went horse-back riding at Sunnylee Stables just outside St Thomas. We had fun and learned a lot from the instructor, who was called Jessica, I think, anyway, her parents Kimberley and Henry own it and we had a great time.


We not only rode the horses, but we also learned how to groom them and put their saddles and bridles on and how to get them to walk, trot and canter.
My Mom said that it was really good value for what we got as we were there longer than the hour we paid for!
My horse was named Toy and my friends rode Pepsi and Milo.
Before we went there I was scared of big horses, but we were able to brush the horses and get to know them before we rode them, and that was nice.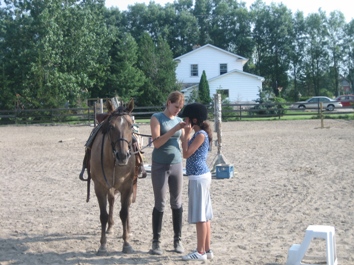 Getting ready to ride