He was a Cool Possum!
by Marisa
(London, Ontario, Canada )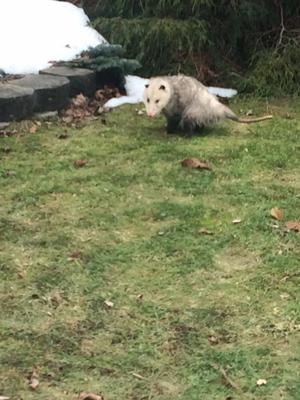 Possum in London, Ontario
I was waiting for the bus around 2:30 pm when I saw this guy across the street.

I wasn't sure what it was so I went for a closer look and saw this guy sniffing and wandering around.

When he saw me he froze and continued sniffing in my direction for a few moments until he went away again.

I watched him get near the road and he got honked at and scared back onto the sidewalk after attempting to cross the street.

After talking to a few people I learned that he has been seen a lot in the area over the last 3 days.

Thank you for writing to tell us of your Possum sighting, I will also post this on our Facebook page so that our Facebook followers can also read it.

You will also find it on our Website Blog.
Join in and write your own page! It's easy to do. How? Simply click here to return to Possum sightings 2018 & 2019.