Hawks in our backyard
by Steve & Sharon
(London, Ontario, Canada)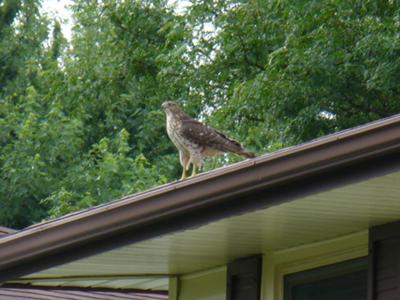 Big bird

We noticed a hawk in our backyard over the last few days. Today we had quite a treat with 3 in our backyard at once. So we think it may be mom with her young (although they look very big).
Here is also a photo of 2 of them together, I hope the picture is too large for the site.
Please let us know what type of Raptor this is?
Thanks,
Steve & Sharon
Thanks so much for your submission to our site, and the great pictures - maybe one of our readers might know what type of Hawk this is, so if anyone can identify this bird, please let us know. Meanwhile I will check my "Bird Books" and see what I can find out - Thanks again!