Golden Eagles at mouth of canal in Niagara
by Andrew Blanchard
(St. Catharines, Ontario, Canada)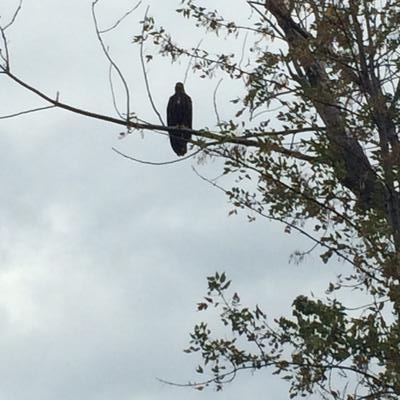 We have seen two massive brown birds recently by Joan's Beach in St. Catharines.
They have silvery, white designs on underside of wings. We passed one in a tree today. It flew right over us. Amazing!
Sorry, pictures are not great. In the third one you can just catch a glimpse of the bird flying over the tree.
Do you agree these are Golden Eagles?
Thank you for sending these pictures and your report of your Eagle sighting.

Bald Eagles are more common in Southern Ontario, so this could be a juvenile Bald Eagle, but your sighting was in September so the ones you spotted could be Golden Eagles migrating south for the winter.

In addition, I will also post this on our Facebook page.
Join in and write your own page! It's easy to do. How? Simply click here to return to Eagles.