Glen Williams, Fergus & Elora
by Peter, Michael, Marinus
(Guelph, Toronto, Georgetown)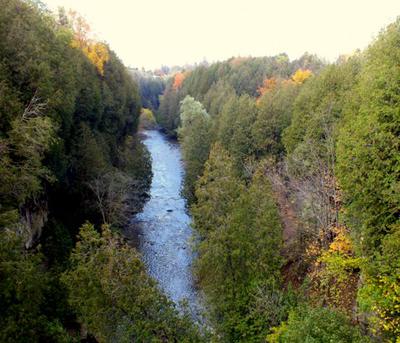 Elora Gorge
We asked our readers for their favourite villages and quiet spots and had a few replies, which are below.

Peter from Guelph said ..... Both Fergus and Elora are picturesque small towns on the Grand River; Fergus has the annual Highland festival, old stone architecture, etc in both towns. The Elora Gorge park is great to spend a day. One of our favourite day trips is to these areas. (Have lunch at the creperie on Water Street in Elora; delicious!) We found useful info at Elora & Fergus Info.

Michael from Toronto says ..... You can't leave Elora off your list. Also Erin, Ontario. Both are frequent destinations of our "Sunday drives" and each is within proximity to the artists' complex at Glen Williams and the local bakery and the Terra Cotta Inn which is generally our late lunch destination.

Marinus from Georgetown sent us some of his great pictures and says ..... With fall just around the corner, my suggestion for a lovely place to visit is Elora.

Another one of our readers said ..... On a Sunday drive we stumbled along Glen Williams, just outside of Georgetown, Ontario. It's hills and winding roads, with lots of trees and greenery, is a wonderful little secret of Ontario. You should go and visit this beautiful area.



I must say that Fergus and Elora are two of my favourite Ontario villages and we have spent many happy hours wandering around those two places.

I have never visited Erin or Glen Williams, but perhaps this fall I will do so!

So, there you have it, some ideas for Sunday drives or exploring Southern Ontario!

I have also posted this on our Facebook page so check out this and other information about Southern Ontario, there!