First possum sighting in Quinte West, Ontario
by Penny Olorenshaw
(Quinte West, Ontario, Canada)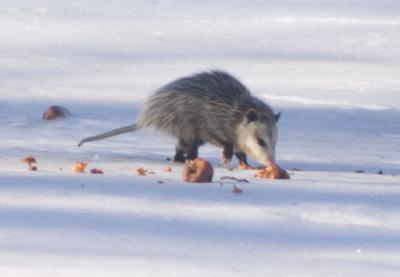 Possum sighting in Quinte West
Our farm had a new visitor today - a large, shaggy possum! We live in the country near Wooler, northwest of Trenton, and this is the first possum we've seen here in thirteen years.


I noticed him nosing around one of our apple trees. This tree has a number of stubborn apples that have hung on all winter, and now that the weather is warmer, they have thawed and are edible again.Not satisfied with the fallen apple he found peeking out of the snow, our visitor headed up into the tree. There he climbed out to some pretty shaky outer limbs and managed to snag a couple and enjoy a snack.
As he moved along the branches, a couple of apples fell to the ground so he headed back down the tree to take advantage of solid ground. By this time, we had located a camera with a zoom lens and managed to find some batteries and were able to get a few shots before he was startled by a noise and headed for cover.
Thanks for sending your adorable pictures, I really enjoyed seeing them and I know our readers will too!