FANSHAWE COLLEGE
London
St Thomas, Woodstock, Tillsonburg, Simcoe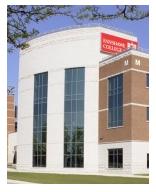 The London Campus of Fanshawe College is located at 1001 Fanshawe College Boulevard, London, Ontario, just north of Oxford Street, off Second Street, and covers around a hundred acres of land.
There are three residences for students, which can house 1,200 individuals, and there are twenty buildings which house the school itself.
This is one of the largest Ontario Colleges in Canada, with many courses available, including the following .....
•Applied Science & Technology
•Building Technology
•Lawrence Kinlin School of Business
•Contemporary Media
•Design
•Health Sciences and Nursing
•Human Services
•Information Technology
•Language & Liberal Studies
•Tourism & Hospitality
•Transportation and Motive Power
Their phone number is (519) 452-4430.
There is also the new campus in downtown London, more info to follow.
---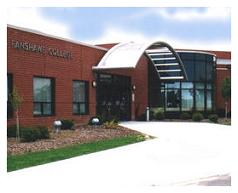 The St Thomas Campus is located off Fairview Avenue, at 120 Bill Martyn Parkway, south of the city.
This facility has places for 350 full time students and also 2,000 part time students and has services for students including a Library, Resource Centre, and Cafeteria.
Full time programs include .....
•Business Foundations
•Electronics Engineering Technician - Industrial Controls
•Entrepreneurship
•Mechanical Engineering Technician - Industrial Maintenance
•Mechanical Technician - CNC/CAM
•Mechanical Techniques - CNC
•Personal Support Worker
•Pre-Health Science
•Welding Techniques
Their telephone number is (519) 633-2030
---
The Woodstock Campus is located on fifty acres at the intersection of Highways 401 & 403, and is part of the Woodstock District Community Complex, where you will find a Gymnastics Centre, Food Services, a Skating Club and two Arenas.
Offered are the following courses .....
•Business Foundations
•Computer Applications and Business Documentation
•Hair Stylist
•Personal Support Worker
•Welding Techniques
•Heating, Refrigeration and Air Conditioning Technician
•Police Foundations (Accelerated)
•Practical Nursing
•Child and Youth Worker
Their telephone number is (519) 421-0144
---
The Simcoe Campus is located at the James N Allen Campus at 39 Kent Street North, Simcoe, Ontario.
Their telephone number is (519) 426-8260 for information on courses and dates, or (519) 428-1135 ext 230 for Community Career and Employment Services.
---
Fanshawe College Info ...
London Campus Oxford St and downtown
Woodstock Campus Woodstock District Community Complex

St Thomas Campus Fairview Avenue, 120 Bill Martyn Pkwy, south of the city
Huron - Bruce Central Huron area, north of London
Simcoe Campus  James N Allen Campus, 39 Kent St North