Eagles in North Perth County
by Susan O'Brien
(Wroxeter, Ontario, Canada)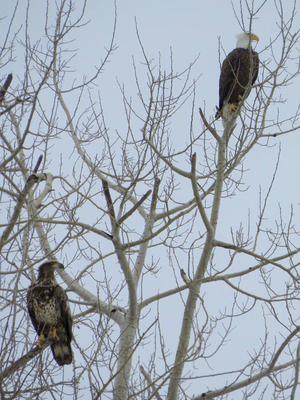 One Adult Bald Eagle and one juvenile
Over the past month I have seen 4 individual eagles in North Perth County on the outskirts of Listowel, Ontario.
Two of these are mated, and one was a large juvenile Eagle.
Now that the snow is melting, the sightings are more frequent as the fields are being uncovered and small rodents are moving.
The food source seems to be readily available for Eagles and Red-Tailed Hawks in this area.
Thank you Susan, for sending this to us, your pictures are amazing!

Our readers can see more reports of animal and bird sightings on our Facebook page Discover Southern Ontario!