Damselflies
by Barbara G
(Toronto, Ontario, Canada)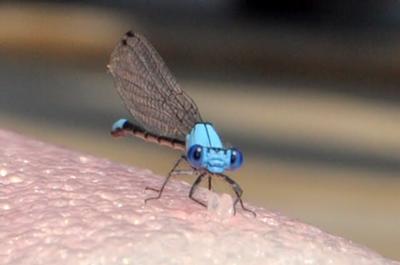 Blue Damselfly

I took these pictures of Damselflies just outside St Thomas, Ontario, as they flitted and flew around our friends' swimming pool.
The Damselfly would settle beside a bead of moisture, just for a few moments, and then it would be off again.
Damselflies are smaller than Dragonflies, and the ones in the pictures were a beautiful Azure blue.
The males are usually more brightly coloured than the females and they require clean, unpolluted water to breed, so it is a good sign if you see them on the lakes and ponds where you live.
Thank you for sending us these great pictures of Damselflies - I didn't know they were so beautiful!

I will also post this on our facebook page for our facebook followers to enjoy.