Coyotes sighted
by Tabitha, Kid, Maurice, Dog Mom
(Barrie, Courtice, Oshawa, Galt, London)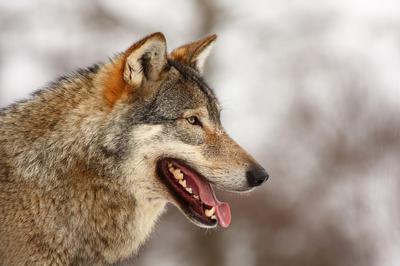 Coyote
Tabitha from Barrie, Ontario, wrote ... my dog and I got followed/chased by a Coyote for about 10 minutes on Friday, February 14, 2020 in our local park. I believe it was about 30 lbs and got as close as about 40-50 feet. I was terrified but just believed that I had to protect myself and my dog at all costs. In the end, it was the kindness of a stranger, in a vehicle I flagged, that drove us to my vehicle, close by, so we could escape unscathed. The driver and I saw the animal as he was taking us to my car. He believes it to be an area Coyote that his children had spotted a few days back. Scary, sublime and utterly amazing! Wow! Happy Valentine's Day.

One of our readers said ... February 17, 2022 2:58 am. Courtice, Ontario ... I was looking out my window and saw a rather healthy looking Coyote coming out between the houses and walking down the road. He wasn't moving fast, a slight trot with his head down in the pouring rain. He was making his way down our court out onto George Reynolds Drive. I've actually never seen one before in a residential area and at night have been cautious to not run into a raccoon in my yard but this has definitely alerted me to watch my surroundings. I definitely don't think you can let your pets out unsupervised in this area late at night.

Kid from Oshawa wrote ... one morning last September 8 at 9:00 am I was driving west on Gibb Street (before it turns into Burns St East) and on the right saw a "dog" with no owner, walking toward the playground at Limerick Park. I quickly realized it was a coyote, dark brown in color with a very healthy coat. It was fairly large. It waited until the sidewalk and street was clear and proceeded to trot along the north side of Gibb St going west before crossing the street to the south side and disappearing into the field. There was one lady walking her golden retriever who stopped and watched the Coyote run across the road. Oshawa is full of them for sure.

Maurice wrote ... back in September 2021 on my early morning walk at 5:45am I saw a big coyote at the corner of Sekura Crescent and Gail Street in Galt. I was afraid so I stood tall, kept my eyes on him whilst walking backwards up Sekura. It ran across the street and as I got further up Sekura it came across Sekura again and ran up through the pathway to the new homes on Munch Ave.

One of our readers said ... I walk my dog down East Drive, have come across the same one twice in the past week at around 4pm in the afternoon. The first time he/she walked past us into a parking lot and stood there watching. The last sighting was August 19, 2021, same area on East Drive this time he was walking towards us (my dog is an English Bulldog Cross about 50-55 lbs) the Coyote again stopped a watched us, my dog stopped dead in his tracks twisted his front paws in to make himself look bigger and stared back at the coyote. The coyote lost interest and walked behind a tree area he sat down and continued to watch us. took me forever to get my dog home, every few feet he would stop and turn around to see if it was behind us!

Dog Mom from London wrote to tell of a scary encounter ... I was walking my 2 dogs in Elsie Perrin Park April 22, 2022. I live in the neighbourhood. Started down path to the left of the estate, when a white Coyote came up the hill from the left, to the path, only a few feet away from my dogs and me, showing his teeth the whole time, and lunging toward us. My dogs and I were shocked at first, then I started screaming loudly and waving my arms. Coyote did not back down at first, and my dogs were upset and excited, were jumping around me, and leashes got tangled around me, which caused me to fall as I tried to walk away. I panicked as I hit the ground, thinking the Coyote would then come after us, but thankfully, he just stayed there watching. I got back up quickly & continued to yell, and he eventually went back down the hill. When I fell, I smacked my face on the ground and later required 3 stitches. Very terrifying encounter. He did not seem afraid of us at all, and likely would have gone after especially my smaller dog if he was off leash, and if I didn't cause a fuss. Be very aware around there, keep dogs on leash, make lots of noise, etc. But not sure that's enough if they're not afraid. I won't be ever going back there.


ID 8292743 © Callan Chesser | Dreamstime.com