Chipmunks!
by Wendy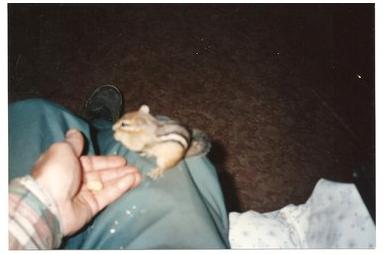 Cheeky Chipmunk
One summer day while feeding the Chipmunks, I forgot to close the screen door. Next thing I knew, there was a chippy in the house. I never really knew how smart they were until that day.

I had left the bag of peanuts on the end table beside my husband`s chair in the living room. To my surprise, little chippy knew exactly where to find the peanuts & made himself right at home. Soon after, he invited his entire family into our house.

Little did we know, this was the start of a daily routine. They always took the same amount of peanuts, two in each cheek, before they would run back outside.

They were SO entertaining!

Every day they sat on "their" little table & filled their faces! They would sit on our knees, shoulders, etc. & loved being hand fed.

They even loved having their pictures taken. One day one little chippy wasn't facing the camera so I said ... "Smile for the camera." He immediately turned & posed.

You can see this in the pictures I have posted.

They really did become part of our family & we named every one of them!

Thank you so much, Wendy, for your lovely story and pictures - I know that Chipmunks are smart, but who knew they were so charming!