Blue Jay Nest
by Sharon
(Aylmer, Ontario, Canada)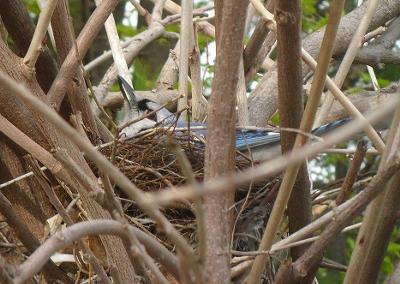 Now you see me .....
A friend came over the other day, and while we were out in my yard, she took these pictures of the nesting Blue Jays in my climbing Wisteria Vine.

This vine is just steps from my back door, and the birds don't seem to mind me walking by, but I try not to disturb them, as I don't want them to abandon their young.

The parents were busy building the nest last week, with one bird bringing the nesting material, and the other one doing the actual nest building.

Then they laid their eggs and now they are incubating them.

When the babies hatch I will send more pictures!

Isn't Mother Nature wonderful!