Bald Eagle on the Maitland River
by Alex Strong
(Wingham, Ontario, Canada)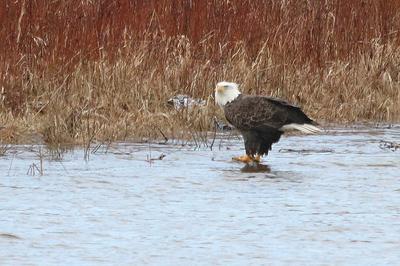 Bald Eagle on the Maitland
There are two Eagle nests within 5 miles of my home on the Maitland River.

I often see Eagles flying along the river behind my home.

On December 13 2020, at noon, I was able to photograph a big Eagle feeding in the shallow water of the Maitland, (an encounter that I was able to record with my camera).

My first Eagle sighting ever was in Feb 2012 , right behind my house. Those pictures were submitted to your publication.

Thank you for submitting these wonderful pictures to our website, I know our readers will enjoy them as much as I did!
Join in and write your own page! It's easy to do. How? Simply click here to return to Birds of Prey.