Backyard birds and friend.
by Marinus Pater
(Georgetown, Ontario, Canada)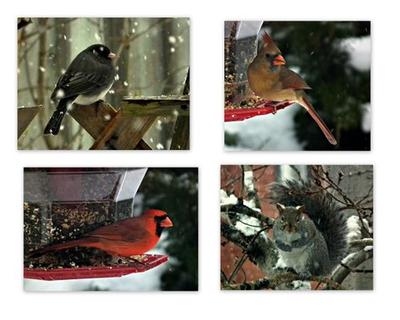 Junco, male and female Cardinal and squirrel. All stoking up for a cold Minus 22 C. night

With no sparrows around, to chase it away from the feeder, I was finally able to take pictures of this lovely little creature, the Red Breasted Nuthatch.

It has only been coming around for the last 1/2 year, and this Mourning Dove, instead of mourning about the minus 22 C temperature, fluffs up and finds shelter from the wind.

A good late day meal at the feeder also helps.

Thank you for more great pictures of the birds in your yard!
Join in and write your own page! It's easy to do. How? Simply click here to return to Backyard Birds of Ontario.