An Eagle in Lakeport Ontario.
by Ken Diamond
(Colborne, Ontario, Canada)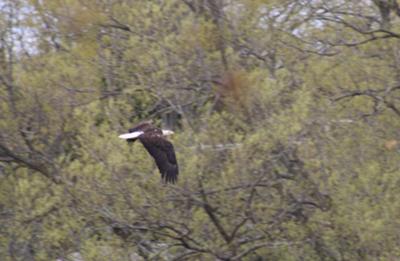 It was on Monday April 30/12 early in the day that I saw him for the first time. He was perched in a tree that overhangs the Colborne Creek.


I managed to get some pics from our deck which is about 200 metres from the tree. I tried moving closer but he flew and I managed to get the shots of him flying.
He returned to the same tree again twice that morning but every time I tried to move closer he took off.
I watched him the following morning flying over the wetland area and again the morning after as he landed on our beach.
On Friday May 4th I caught sight of him flying very high over the houses in Lakeport but that was the last sighting.