An Assortment of Possums
by Mark, Susan, Barbara, Maureen, P S King, Jim
(London, Cannington, Brampton, Scarborough, St Catharines, Bailieboro, Ajax, Quinte West, Port Credit)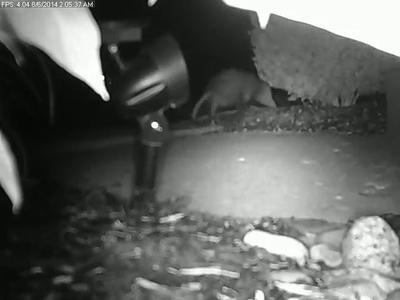 Out for a walk
Mark, in London, Ontario sent us some great pictures from a webcam he set up in his garden, and he says ..... We noticed digging in the corner of our garden by a shrub and decided to place a webcam near the garden and to our amazement we caught on tape a Possum.


Susan from London, Ontario, wrote to say ..... This morning we had a Possum in our back yard. We back on to the Highland Woods from Rossmore Court. Is this unusual?
Barbara says ..... In Cannington, Ontario Canada, first confirmed sighting was about 1:00 a.m. August 19, 2004, when a Possum appeared under the bird feeder picking seeds the birds dropped. The other unconfirmed sighting was about a week prior, same thing early morning, our resident raccoon was sitting on its hind legs watching something in the vicinity of the bird feeder and all of a sudden it scurried away. This could have been the possum again.
From one of our readers in Brampton ..... Unfortunately I discovered a dead young Possum in my garden this morning. I have to admit I had to google to see if they even could be found in Ontario. It's a shame that the first sighting I have of one is in this way.
Another reader wrote to tell us ..... August 2014, a Possum sighted at 401 and Port Union in Scarborough, Ontario. Had no idea what it was but 16 year old daughter told me it was a Possum. Ugly little guy about the size of a small cat.
A reader wrote to say ..... We are in St. Catharines residential area. Found a small Possum in our kiwi vine. 4 pm. Washing his hands and just chilling on the fence.
Maureen Heaps from Bailieboro, Ontario, told us ..... The other night my dog was barking late at night. He was inside the house and barking at the front door. I turned on the outside light and there was an Opossum sitting on my walkway by the door. I live on a river with a forest in back. Since then I have heard him "shriek" at night a very distinctive sound. I also suspect he is the culprit draining my humming bird feeder at night!
P S King from Ajax, Ontario, wrote to say ..... We have seen a few sightings of Possums in the Ajax area. I have had seen them in my yard and at a local Tim Horton located in the North Ajax area.
One of our readers from Quinte West, Ontario, told us ..... I saw a dead one on the 2nd Dug Hill Road, at the west side of Hannah Park.
Jim from Port Credit, Ontario, says .....I looked out my bedroom window around 3:00 am and I saw this light coloured animal with a pointed nose wandering through the parking lot. I had never seen one before. I didn't know what it was but the first animal I thought of was Possum. Once I looked at Possum pictures on the internet I knew it was a Possum. Kind of creepy looking critters.
Thank you all for sending us your reports of your Possum sightings, especially Mark for your great garden-cam pictures!

We receive so many submissions every day that we have a backlog and I decided to combine these onto one page.