A Hawk through a dirty Toronto window
by Jennifer A. Temple
(City of Toronto)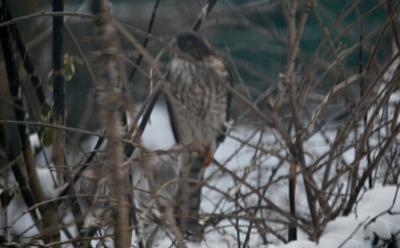 I recently purchased a modest telephoto lens and had been practicing its use on Sparrows in my back yard.
Generally I have a small blind I can open. On this January morning looked out the window to check on the Sparrows and was amazed to see this Hawk. I took pictures through the dirty window glass first on the premise that any image would be better than none.
I was glad I had done so because as soon as the birds heard the first slight rustle at the window, a cloud of Sparrows rose up and they, along with the Hawk, left.
I live in the M6S area of the city of Toronto.
Thank you so much for the report of your Hawk sighting - there was a slight glitch - would you mind re-sending the pictures, as they didn't come through - it works best in a JPG format - our readers would surely enjoy seeing them - thanks!