A couple of a baltimore Oriole in my backyard in Mississauga- ON- May 2011
by Ivana Bottini
(Mississauga, Ontario, Canada)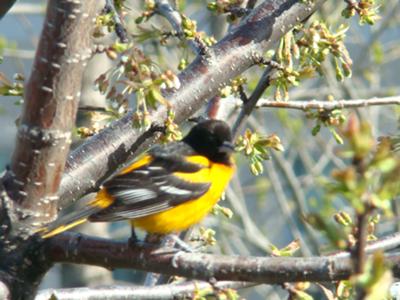 Female Baltimore Oriole -Mississauga
Hi there. Well, I'm very lucky this year to have a couple of Orioles.

Beautiful bird, and as you can see the pictures, the male is very comfortable enjoying the orange.

The female prefers to have a Sunrise bath in our Cherry tree.

Beside the Oriole I have dozens of wild birds like Blue Jays, Cardinals, House Sparrows, White Throated Sparrows, White Crowned Sparrows, Red Winged Blackbirds, Robins, Chickadees, Goldfinches, House Finches, Purple Finches, Green Finches, Mourning Doves and more.

Thanks
Ivana

Thank you so much for your report and for your beautiful pictures, you are fortunate to have such abundant wildlife in your yard - thank you for sharing your information with us!