STRATHROY
Ontario
If you like Turkey
you'll love Strathroy Ontario!
Strathroy Ontario, is synonymous with Cuddy Turkey Farms, and with a population of around 13,000, is conveniently located just to the west of London, making it a desirable community in which to live - an easy commute to London, but great small-town country living!
Being just to the south of highway 402 makes it easy to get to Sarnia, and therefore Port Huron, Michigan, for when a good exchange rate with the US dollar, makes cross-border shopping a good idea.
First settled in 1832 and located on the Sydenham River , John Stewart Buchannan opened and operated a grist mill here. By 1840 there was a general store and from then on, the community grew until it was big enough to be called a village in 1860 and a town in 1872. Named by Buchannan after his hometown of Strathroy in Ireland.
---
Cuddy Farms is located here and this town is affectionately known as the "Turkey Capital" by locals! This is all thanks to Mac Cuddy who bought a 100 acre farm in 1950 and started his business - Cuddy Farms.
The General Hospital opened it's doors in 1914 and the current building dates from 1962 and is a facility with 82 beds and serves Strathroy and the surrounding area.
We will be adding more information about the upcoming events in Strathroy, in the near future, but meanwhile here is our current offering of what is going on in Strathroy.
Let's talk Turkey - did you know that the Canadian headquarters of the world's top turkey hatching company is located in Strathroy Ontario?
Turkey Fest which is held in Alexandra Park. Check out their website for information about the Turkey Fest celebration which was held to celebrate the town's anniversary, in June each year
There was a great big party on Friday at the main stage, where there was birthday cake, music and the admission was FREE!
The Great Buzz off for Cancer was in support of Strathroy's Terry Fox Run, and on Saturday there was an all-day entertainment on the main stage.
---
For more information about the town of Strathroy, Ontario check out the official town website.
If you like to play a round of Golf, you might like to check out the Bear Creek Golf Club just outside town. This Semi-Private, 18 hole Club opened in 1946.
---
If you are looking for a good restaurant while in Strathroy, try Johnny Bucks on Metcalfe St East, (519-245-3511) We eat here when we are here and have never been disappointed.
---
To my hubby and me, this town means one thing - SNOWMOBILING!
This town has wonderful snowmobile trails, which are planned, built, groomed and maintained by the many volunteer members of the Strathroy Sno-Blizzards Snowmobile Club.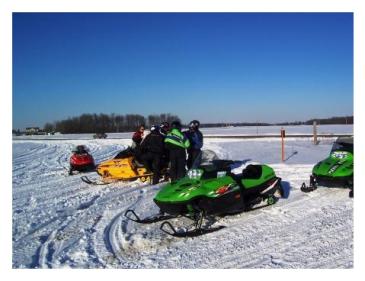 These dedicated men and women work extremely hard to keep the trails open during the winter and take care of the business side of snowmobiling through the rest of the year. Thanks Guys, you do a great job!
Thanks too, to all the Farmers and Landowners in and around Strathroy Ontario who allow the Snowmobile Club to make trails across their land - without their cooperation, there would be no trail system. Thank you!
Casey and his buddies taking a break from riding the trails, somewhere between Parkhill and Strathroy Ontario.
What a day's ride they had, the snow was great, their sleds were tuned, the trails were groomed and the sky was blue, what more can you ask!
I have been snowobiling now for about 15 years and one of the reasons that I am never cold is that I take the time to dress properly for sledding and that includes under garments that wick the perspiration away from your body.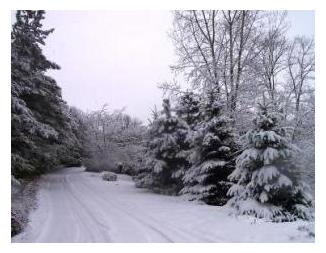 Here is a picture of some of the beautiful, well groomed trails in the Strathroy Ontario area.
Check out the Sno-Blizzards website to find out where OFSC Trail Permits may be purchased
Strathroy Ontario Info ...
If you would like to contact the Ontario Federation of Snowmobile Clubs (OFSC) Head Office in Barrie, Ontario, or if you need to confirm trail conditions before you ride, then check this link for information.

Cuddy Farms, Strathroy Ontario, Website
Learn all about Mac Cuddy and his pioneering ideas about the poultry hatching business
Strathroy Sno-Blizzards Snowmobile Club
Check out the site of this great snowmobile club. If you would like to volunteer your time to this worthwhile organization, please contact them at the phone numbers listed
Bear Creek Golf Club
Fine Golfing at this Semi-Private, 18 hole Club
Sydenham River
This river flows from Ilderton in the north, to Lake Erie. This site will teach you all about the river, its plant and animal life
How to Cook a Turkey: *And All the Other Trimmings

The Ultimate book on how to cook your Christmas or Thanksgiving Turkey and to also enjoy high protein, low fat turkey year-round