5 Bald Eagles
by Deb Laframboise
(Hanmer, Ontario, Canada)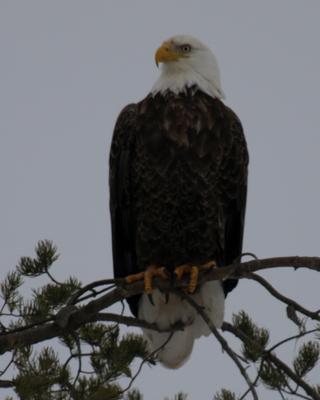 Bald Eagle in tree

My Husband came home all exited telling me to grab my camera. I had no idea what he wanted me to take pictures of.
We got in the truck and he wouldn't say what it was. We were driving to our local dump so I figured maybe he saw some bears. But lo and behold when we got there he told me to look up in the trees.
There were two Bald Eagles. When we drove further we saw another three. What a sight to see just north of Greater Sudbury, Ontario.
Thank you so much for telling us about your Bald Eagle sighting - how exciting for you both, I am quite envious!
Join in and write your own page! It's easy to do. How? Simply click here to return to Bald Eagle sightings 2012.