RAPTORS AND VULTURES


of Southern Ontario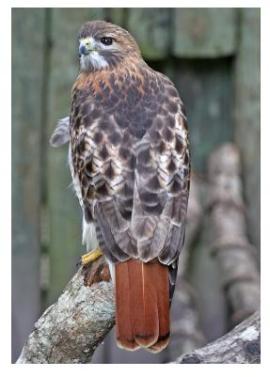 There are many raptors and vultures in across North America, including Southern Ontario, such as the graceful Turkey Vulture which spends the summers in this area, the Bald Eagle and the Red Tailed Hawk and other birds of prey.
Many birds of prey migrate through this area in the Autumn on their way to their southern wintering grounds.
They can be observed during the fall at several points along the Lake Erie shoreline, including Hawk Cliff, which is east of Port Stanley, south of St Thomas and all along the Lake Erie shoreline.
This section of our website is currently under construction - please check back here soon - we will shortly have more information on
Ontario Birds of Prey
You can see more reports of animal sightings on our Facebook page
Discover Southern Ontario on Facebook!
American Kestrel
Broad Winged Hawk
Cooper's Hawk
Golden Eagle
Merlin
Northern Goshawk
Northern Harrier
Peregrine Falcon
Red Shouldered Hawk
Rough Legged Hawk
Sharp Shinned Hawk

Have you seen one of Southern Ontario's Raptors?
We would love to hear about your sighting of the Birds of Prey in Southern Ontario, or if you spotted a rare Raptor.

Remember to make your submission a minimum of 100 - 200 words and tell us when and where you saw the bird, the time of day, and what you observed them doing.
What Other Visitors Have Said
Click below to see contributions from other visitors to this page...

Hawk Cliff - Raptors and Vultures info
This site is a gold-mine of information about migrating birds of prey & vultures in Southern Ontario