COYOTES


Canis latrans

In Southern Ontario, the howl of Coyotes is a familiar sound to those who live in the country, and to many who live in smaller cities, as they have long inhabited the outskirts of towns here.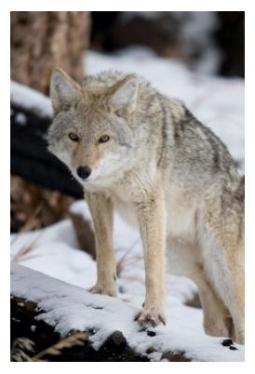 They are most common in areas that are adjacent to green spaces, such as farm land, conservation areas and parks.
They can travel a long way using ravines, highways & roads, walking paths and hydro corridors, although they prefer to build their dens in secluded places where they will not be disturbed - in ravines or close to the banks of streams and small rivers.
These intelligent and adaptable animals seem to be able to live closely with their human neighbours and are not usually a threat to human safety, although we are their only natural predator.
Many people have concerns about these wild carnivores living in their neighbourhoods, and to live in harmony with them it is necessary that we respect and understand them and their needs.
According to the Ministry of Natural Resources, there have been no incidents of these canids attacking humans in the province of Ontario.
Common sense should dictate that small children and babies should not be left unattended outdoors if Coyotes are known to be about.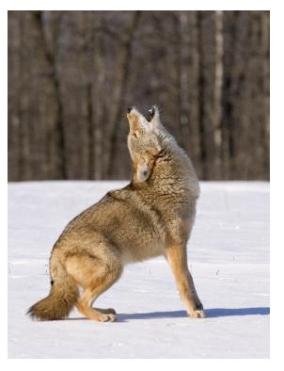 We should all teach our children basic safety regarding wild animals.
They have adjusted well to living in close proximity to humans. They are generally cautious, shy animals and would prefer to avoid confrontations with people.
Some people consider them to be a nuisance and have tried to trap and relocate them, however they are extremely intelligent and almost impossible to live trap.
Ontario Provincial legislation prohibits the relocation of wildlife from their home territories; therefore, trapped animals must be released in the same area or destroyed.
Research shows that wildlife relocated from urban areas will typically return to their home range, or become a problem elsewhere and that when coyotes are hunted and killed, the population will compensate by producing larger litters and expanding their range.
Coyotes are active and often sighted at dusk, during the night and at dawn.
Mike, one of our readers, saw a coyote recently when it pranced in front of his car on Cootes Drive, Dundas, Ontario.
One of our readers, Hilton from London, Ontario, says "I am about 98% sure that I saw a pack of three coyotes this morning while running on Hamilton Rd, near Commissioners Road - they were about 150 yards away from me, heading North. They were all the same colour and looked alike, very similar to the picture on this page. I am sure that they were not Deer."
Their diet is mostly made up of mice and other small rodents such as Groundhogs & rabbits, Snakes, fish and carrion and they are opportunistic feeders.
This means that they will also eat garbage which has been left outside, so residents should make the effort to keep their trash enclosed and inaccessible.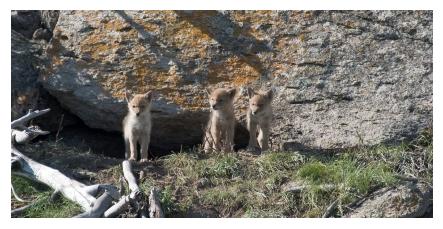 They breed in late Winter, with their young born in Spring, which are weaned at six weeks, with most pups leaving their parents in Autumn to find their own territory.
These animals don't form packs the way Wolves do, so if seen in a group, it is likely a group of siblings, and a mated pair are the basic social unit.
Canis latrans are not considered to be main carriers of rabies and only represent less than 1% of all diagnosed incidents of the disease in wild animals in Ontario over the past 40 years.
The colour variations of Coyotes range from blondes to reds and browns, and the weight and size of these animals varies from 35 to 45 pounds, although their thick fur often makes them appear heavier than they really are.
In the YouTube video below, you can hear the "Yipping" howl of the Coyote, which is very different from the howl of the Wolf which you can find in our Grey Wolf section.


If you would like to read Coyote reports from previous years, you can read them below.
Archived Coyote Sightings from 2010
Archived Coyote Sightings from 2011
Archived Coyote Sightings from 2012
Archived Coyote Sightings from 2013
Archived Coyote Sightings from 2014
Coyotes are active in Southern Ontario ....
Have you seen any Coyotes in your area, or when you were traveling in Southern Ontario?

We would love to hear if you spotted one of these intelligent animals!

Remember to make your submission a minimum of 100 - 200 words and tell us when and where you saw the animals, the time of day, and what you observed them doing.
What Other Visitors Have Said
Click below to see contributions from other visitors to this page...

The Boreal Forest - Coyotes
Info about Canis latrans sometimes known as the Brush Wolf