DALEWOOD CONSERVATION AREA
St Thomas, Ontario
CAMPING, HIKING & CANOEING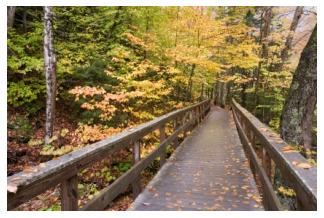 Located just to the north of the pretty, historic city of
St Thomas, Dalewood Conservation Area is a campground for both traveling campers or those who wish to park for the season.
There are excellent trails around the lake which are enjoyed year-round by those who enjoy Hiking and it is also a great place for watching many of the pretty area birds. Fishing is allowed on the lake, either from the shore or from your canoe - but don't forget to purchase your Fishing Permit!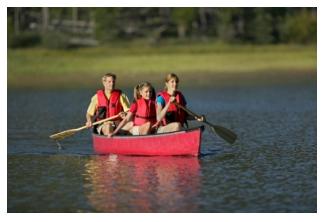 This Campground is just a mile or so from our home and Sunnybrook Farm Garden-level Guest Suite , and we camp here now and again during the summer.
We know that we could travel a long way and wouldn't find anywhere nicer than Dalewood!
Located within easy reach of grocery stores and restaurants, the Conservation Area is fairly quiet, and it is great for young families.
It is close to all the amenities of the city including Golfing, 5-Pin Bowling, Disc golf, Soccer fields and public Baseball diamonds.
Volleyball courts, a basketball court and a playground are available for the younger members of your family.
During the summer months there area Certified lifeguards on duty, making the pool at the Camp-ground the perfect place for the whole family to cool down on your summer getaway.
In the summer there is the annual "Christmas in July" celebration, when the seasonal campers decorate their caravans & trailers and children of all ages can enjoy a hay wagon ride around the camp-ground with Santa Claus.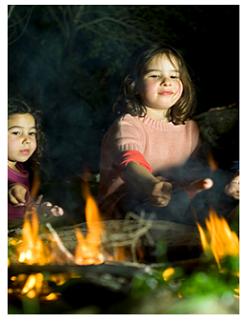 There are 195 campsites available which are all equipped with a picnic table and a fire pit - great for relaxing and toasting hot-dogs and marshmallows at the end of a busy day.
These children are toasting marshmallows to make "S'mores" ..... yummy!
Serviced sites are available, including water and 15 or 30 amp service with room to park a trailer or a RV.
This Conservation Area and Campground is open from May 1 to September 30.
For more information call (519) 269-3592, or (519) 631-1009.
During the off-season call (519) 631-1270
Dalewood Conservation Area - Zone de Conservation