KEANU REEVES
Canadian Actor
The movie "Speed" (1994) starring Keanu Reeves and Sandra Bullock was a rip-roaring roller-coaster of a movie and was the first time I saw Reeves on screen.
This Tribute to Reeves comes to you from YouTube and RubyGirl46
His movie career started after a few stage performances and a handful of made-for-TV movies, he had a supporting role in the Rob Lowe hockey flick "Youngblood" (1986), which was filmed in Canada.
Shortly after production ended, Reeves headed for Hollywood and soon popped up on critics' radar with his performance in the dark adolescent drama "River's Edge" (1986).
However, his first popular success was the role of totally rad dude Ted Logan in "Bill & Ted's Excellent Adventure" (1989). The wacky time-travel film became something of a phenomenon, and audiences seem to forever confuse Reeves's real-life persona with that of his doofy on-screen counterpart, Ted Logan.

During the next few years, Keanu Reeves tried to shake the Ted stigma with a series of highbrow projects - he played a rich boy opposite River Phoenix's male hustler character in "My Own Private Idaho" (1991).

He played an unlucky lawyer who stumbles into the vampire's lair in "Dracula" (1992), and in Shakespeare's "Much Ado About Nothing" (1993), he played Don Jon.
I found him memorable in the movie "Johnny Mnemonic", but my own personal favourite was his role of Kevin Lomax in "The Devil's Advocate", in which he played alongside Al Pacino and Charlize Theron, which was a wonderful movie - that's just my opinion, but it was a powerful movie and Reeves played his part beautifully.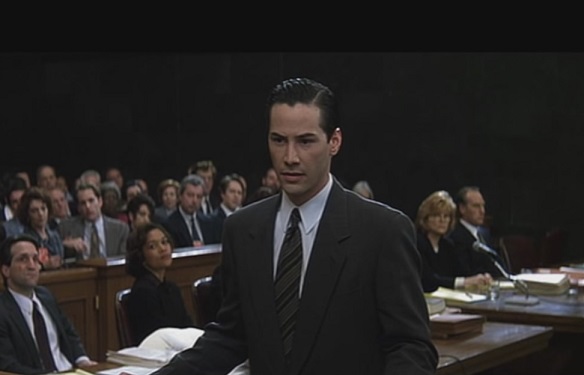 Mini-Bio
Born September 2, 1964 in Beirut, Lebanon
Keanu means "cool breeze over the mountains"
In 1995, chosen by People Magazine as one of the 50 most beautiful people in the world
Honoured with a Star on the Hollywood Walk Of Fame - Jan 2005

Internet Movie Database - Keanu Reeves
Facts, info and trivia about this Famous Canadian