What are these birds?
by Marianne
(By Chemong Lake of Frankhill)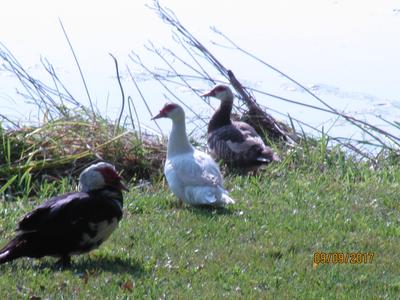 Here I am by Chemong Lake off Frankhill, and see those bird, took pics.
They look lost and as if they where belong to someone.
Not sure what to do? or what they are. There are three of them.
Please help me to find who they belong to!
Thank you!
Hi Marianne - I'm sorry for the delay in replying to you.

I think those area Muscovy Ducks, which are a domestic duck that you don't find in the wild, so you're probably right, they must belong to someone.

I hope by now they have gone home, or found a barn where they can spend the winter.


I will also post this on our
facebook page
in case any of our readers can identify these birds.