BRUCE MUIR PRINTS
Canadian Wildlife Artist
We currently have no Bruce Muir prints (Limited Edition) for sale.
Born in Vancouver, Bruce Muir's wildlife paintings have been shown around the world and many of his original work can be found in Private and Public collections.
In 2000 Bruce Muir was named Artist of the Year by the B C Wildlife Federation for his painting - Caribou Migration and his painting of Chinook Salmon was used on Canada's Sport Fishing License stamp in 1990.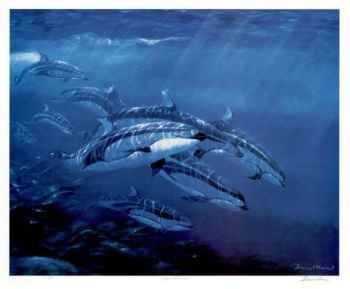 BRUCE MUIR
Pacific Whitesides
Limited Edition Print 130/350
20" x 24"
BRUCE MUIR
Arctic BalletLimited Edition Print 130/350
20" x 24"
We have recently experienced some flooding and several
of our pieces of art-work have suffered minor water damage.
This damage is still being assessed, however, the same pictures are available from Art.com
Links
Art.com - Bruce Muir Prints