Screech owl? Loves to play in sprinkler
by Michelle
(Belleriver, Ont.)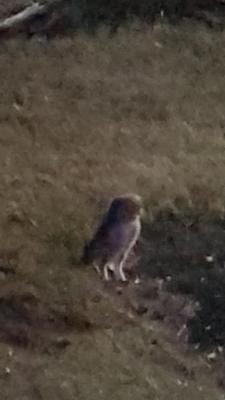 Wednesday August 8, 2018 around 8:30 pm we turned on our sprinkler and this owl came for what we assumed was a drink.
We shut sprinkler off so it would not hit it. He flew away.
When we turned sprinkler back on he came back and seemed to enjoy splashing around. We did not see the next night, but on Friday August 10 we played Screech Owl sounds and he came back.
The first photos I took were grainy because it was dark and I was too far away.
The second time we saw him he allowed me to get as close as 5 ft away and I was able to get 3 fairly decent pictures with the flash on.