Name that bird!
by Tawny
(Brantford, Ontario, Canada)
Tawny, one of our readers from Brantford, Ontario, sent us these pictures of birds that she has seen and would like help to identify - I need to know the name of this bird - we have taken plenty of pictures, but I just need to know where to send them ... we love watching them.


They remind me of a small Jay and come in pairs or a bunch of them, their back is green, a few red feathers on wings too, almost look like a spot... I have a lot more pics if you need too
help identify this bird or birds :)
They are here every year too, eat berries, and their sound is very high pitched.
Thanks
Tawny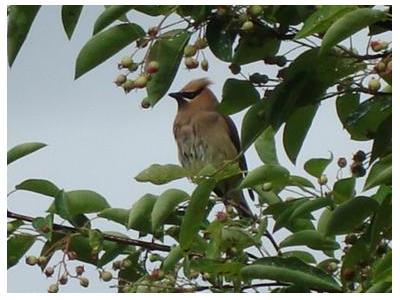 Hi Tawny, thanks for your pictures - I think those birds are Cedar Waxwings.

Here is a link to more information about the Cedar Waxwing and the similar species, the Bohemian Waxwing.