YWIH
YOUNG WOMEN IN HARMONY


THERE IS NO LONGER A LONDON CHAPTER OF YOUNG WOMEN IN HARMONY, BUT I WILL KEEP THIS PAGE LIVE FOR NOW.
Do you have a daughter who loves to sing?
YWIH may be just what she wants to do .......
Is she between the ages of 10 - 18?
Would she like to be part of a girls' Choir?
The London Chapter of

"Young Women in Harmony"

(YWIH) are now auditioning for new singers for their 7th season.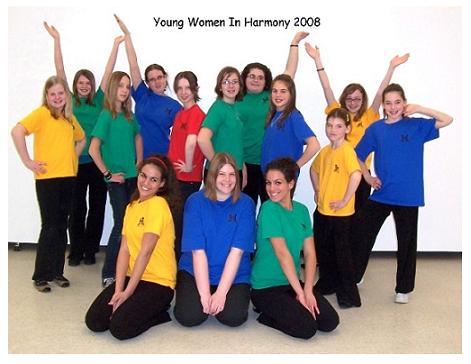 The Choir meets every Wednesday
from 5:00 to 6:10 pm under the guidance of

London Sweet Adelines
At Harmony Manor, 55 MacKay (at Langarth)
For more details call Joyce at 519-672-1088
or contact us at
www.londonchorussweetadelines.ca
"Singing is Life, the rest is just details ......"
Young Women in Harmony - London YWIH




---
Here is the Quartet
Fourmata
performing in Houston, Texas.
---
Here is
Voice 4 Voice
singing "One Fine Day"
---
Here is
Fourmata
enjoying themselves during an impromptu song!