Love-a-Dove
White Dove Release Service
Love a Dove is a new and exciting business in the London, St Thomas and Aylmer, Ontario, area!
AS OF SUMMER 2019 LOVE A DOVE IS SUSPENDING OUR DOVE RELEASE SERVICE DUE TO OUR FLOCK BEING UNDER ATTACK FROM HAWKS - PLEASE ACCEPT OUR APOLOGIES


Love-a-Dove, owned and operated by local entrepreneur, Becky Van Harn, this elegant Dove Release Service will enchant and delight you and your Wedding Guests, when these beautiful birds are released at the end of your Wedding Ceremony or during your photo shoot.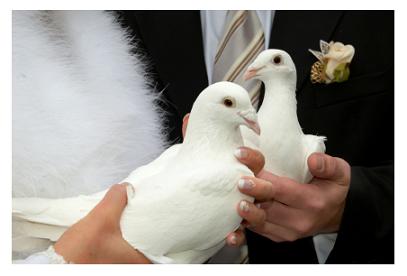 "Doves symbolize love and harmony, peace, faithfulness and commitment to each other, as Doves mate for life, they build their nest together, and both lovingly care for their young. These Doves, once released, will fly away together symbolizing the new life together of this couple"
If you would like to reserve a date for a Dove Release at your upcoming event, please use the form below to arrange your booking with Love-a-Dove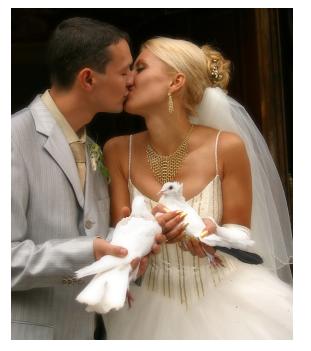 You may enjoy this Wedding Dove Release video from New Zealand
Love-a-Dove White Doves can be released to celebrate any joyful occasion, such as Christenings, Adoptions, Anniversaries, Valentines Day, Proposals, Family Reunions, Mother or Fathers' Day, Grand Openings or any special event.
---
Love-a-Dove White Dove Releases
are also suitable for
Funerals and Memorial Services
In the Christian tradition, the Dove represents the Holy Spirit, Peace, and God's Grace
"In Christianity, the Dove symbolizes the Holy Spirit as the Bible says that during the Baptism of Jesus in the River Jordan "The Holy Spirit came down, as a Dove", and when the Dove returned with an olive branch after the great flood, Noah knew that it was a message of hope from God." 
The Dove release can follow a poem or special prayer, bagpipe solo, the playing of Taps, or any other moment of your choosing.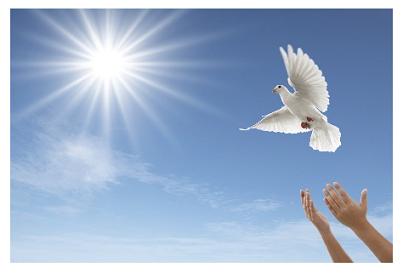 Typically, one pure White Dove is released first, often by a family member of the departed and this is the Spirit Dove.  After a few moments, three more Doves are released, representing the Father, the Son and the Holy Spirit.  These three Doves will join the Spirit Dove, and after circling overhead, they will escort the Spirit Dove "Home"
A Funeral or Memorial Dove release is a special way of expressing your final goodbye to a loved one, and can be a peaceful and healing event.
As our Heavenly Father welcomes all His children into His Heavenly Home, we release the Trinity of Doves, and we will see them join the Spirit Dove, and escort him/her Home.
---
AS OF SUMMER 2019 WE ARE SUSPENDING OUR DOVE RELEASE SERVICE DUE TO OUR FLOCK BEING UNDER ATTACK FROM HAWKS - PLEASE ACCEPT OUR APOLOGIES

---
We now offer releases in St Thomas, south London, Lambeth, Aylmer, Shedden, Fingal, Springfield, Port Stanley, Union, Sparta, New Sarum and most of Elgin County.  Please use the form below to arrange your booking with Love-a-Dove
Love-a-Dove Services
Wedding Packages

Bronze Package: This is where the  Bride and Groom, release two snow White Doves and release them together.  This is a gorgeous symbol of a couple's love and new life together.  These birds could also be released by the handler. 
Price: $150.00

Silver Package: 4 to 6 Doves can be released from this basket by just opening the lid.  Witness the Doves' elegance as they gracefully fly up and circle above before flying home. You can also choose to hand release two birds as above, and then the remainder can be released from the basket.
Price: $200.00

Gold Package: Up to 8 doves released from this cage. Once opened, the doves follow each other out. The Doves represent happiness and freedom as they circle above and group together to fly home.
Price: $250.00

Platinum Package:  Release up to 12 doves from this cage for a larger impact.  You can choose to hand release a two of the Doves and have the others released from the cage.
Price: $300.00
Funeral & Memorial Packages
Four-Dove Release: One White Dove released followed by the release of the Trinity – three pure white Doves which represent the Father, Son and Holy Spirit, which will escort the Spirit Dove "Home". 
Price: $150.00

Solitary Dove, Trinity and Flock of Angels: One snow white Dove released in memory of a loved one, followed by three white Doves symbolizing the Father, the Son and the Holy Spirit, followed by a flock of Angle Doves.  The Doves will circle gracefully overhead before escorting the Spirit Dove "Home".
Price: $250.00
The Final Journey Home:  A flock of 12 white doves are set free and then a single white Dove is presented to a family member to release, to join the flock in flight. The single White Dove signifies the soul of the departed family member, and the flock of Doves symbolizes the souls of those loved ones who have gone before, and who are welcoming and showing the departed soul the way home.
Price: $350.00
Other Releases
Adoption Release: This includes a flock of Doves which are released, the number of birds represents the number of individuals in the family.  Then, one Dove is released by the child or by the parents in the case of a baby, which flies upwards to join the flock already circling over-head, symbolizing the child joining the family.
Family Reunion Release: Each summer many families gather to spend time together and meet new family members, and remember old ones.  One Dove may be released to represent each deceased member of the family who will not be at the gathering.
Anniversary Release: The number of Doves released reflects the number of years a couple has been married.  Alternately, the couple and all their children, may release one bird each.
Christening or Baptism Release:  The release of the Trinity of Doves, followed by the Spirit Dove would be suitable for this Holy and special occasion.
Proposal Release:  Imagine the delight on your Sweetheart's face when she says "Yes" and we release a beautiful flock of White Doves from their hidden basket.
Valentine's Day Release:  A romantic and unique Dove release - we can come to your home to release the birds or we can release them at any outdoor location, perhaps during a romantic lunch date with the one you love.
Grand Opening Release:  A flock of Doves released during your grand opening event are a memorable and dramatic climax to the occasion.
Other Love-a-Dove Release Packages by Arrangement
The cost of the Release depends upon the number of birds required

Check out the Love-a-Dove Website!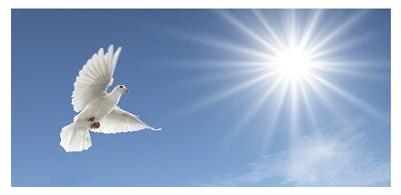 Photographs on this page are thanks to istockphoto

---
Love a Dove
Terms & Conditions
Our Doves cannot be released close to dusk, indoors, at night or in bad weather conditions, such as snow, fog or heavy rain.

If conditions become unacceptable for the release on the day, due to unforeseen circumstances, such as the weather, we reserve the right to cancel the release on the day therefore providing a refund for the release ensuring the safety of the doves,

Our doves can only be released from safe distances from which they can return home safely. before dark.


We want to assure the safety of our Doves, maintain their care and protection; therefore we will only release our doves within 20 kilometres of home.

A Love-a-Dove Dove handler will be present at all times.

Although unlikely, in the event the dove messes, we cannot be held responsible for any cleaning bills or any other costs that arise as a result.

Clients must be aware that no booking is confirmed until we receive payment and have confirmed the payment with a receipt. We accept no responsibility for any loss suffered.

Any cancellation, more than one month before the release date, will receive a refund, less deposit.

If there is a cancellation, made less than one month before the release date, no refund will be issued.

As we are dealing with live birds we are not able to guarantee that the doves will perform exactly as required every time.  We do promise to do the best we can to assure the highest quality white Dove release possible. It is important that you communicate your wishes to us so that we can serve you better.
---
Love-a-Dove

Frequently Asked Questions

What Happens On The Day?
The Dove Handler will arrive approximately 30 minutes before the Wedding ceremony is due to start, and will talk to the photographer about the release.  As the Bride and Groom leave the Church or Wedding venue, the handler will step forward and depending on what type of release it is, will present the doves to the Bride and Groom.
Are they Pigeons or Doves?
The birds used by Love–a–Dove and other Dove Release Services, are white Rock Doves, often called Homing Pigeons, as these are the only type of Doves which can be released and which will return to their Dovecote.
What Happens to the Doves after they are released?
The Doves will circle together in the air a couple of times in a beautiful formation. They will then follow their natural instinct which is to fly back to where they live, their home loft, where they'll have a bath and be fed.
What would happen if I release doves that I bought from the pet store?
Releasing these Diamond or Magician's Doves is cruel because they don't have any homing instinct. They are bred in captivity, accustomed to having their food and water supplied. They are likely to fly to a nearby tree or roof top and then survive as long as they can.
Will the birds make a mess?
Our doves are washed and cleaned before we take them out to a Wedding or Funeral.  We monitor their feeding, but there is a small possibility that they will ….. leave droppings!  After all, they are real live animals. However, this rarely happens, and we always bring supplies to clean up any mess that they might make.

What happens if it rains and the Doves cannot be released?
The welfare and safety of the Doves will always be of the utmost importance, so if we decide the weather is not good enough for the Doves to be released (too windy, rainy, foggy or snowy) we will not release the birds and your money for the release will be fully refunded.
When can the birds be released?
Following the ceremony, the love-a-dove birds can be released outside the church or venue in place of rice or confetti. During an outdoor or Garden Wedding Ceremony the Doves can be released at the time of your choice.  For the safety of the birds, they can only be released during daylight hours, up to one hour before sunset. We cannot allow them to fly during rain.
When could Doves be released?
Weddings, Funerals & Memorials, Christenings, Anniversaries, Valentines Day, Proposals, Family Reunions, Mother or Fathers' Day, Remembrance Day, Canada Day events, Victoria Day events, Grand Openings or any special event.