ANGEL'S NEST
BED & BREAKFAST
Port Dover, Ontario


Powered byIP2Location.com
On a recent visit to Port Dover, hubby and I stayed at the Angel's Nest Bed & Breakfast on St George Street.
We were able to find the place easily and what a lovely stay we had!
The Innkeeper, Mary, was most welcoming and our rooms were clean, cozy and comfortable.
Hubby and I enjoy getting away to stay in a B & B now and again, and over the years we have stayed in many.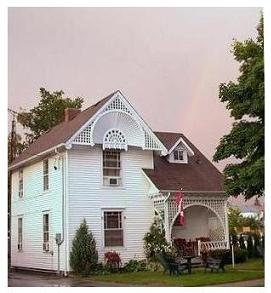 They are all charming in their own way - some are idyllically peaceful, some are large and roomy, others have pools and spas - the Angel's Nest has the most comfortable beds EVER!
Hubby and I stayed in Angelica's Room, shown below.
I can't believe that I slept in until 9:00 am - the bedding was deliciously smooth - percale, I think, and the mattress was soft, yet firm ....... ahhh..........
Our room had air conditioning, but there was a lovely gentle breeze so we didn't need it.
The Angel's Nest is located a 2 minute drive, or a 5 minute walk, from the beach and is just one street away from Main Street, Port Dover.
For breakfast we enjoyed a selection of fruit juices, tea & coffee, fresh seasonal fruits, cereals and a variety of breads and pastries - delicious!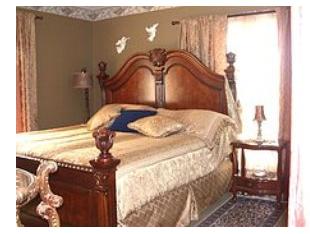 After breakfast, hubby and I sipped our last cup of coffee as we sat on the shady front porch, leisurely reading some of the books in the extensive library which is available for guests to enjoy, as we watched the world go by at a wonderfully slow pace.
I think the Angel's Nest would be great for anyone who needs to get away from the rush of everyday life, for a week or just a few days, or for families who want to spend some time at the Lake.
There are three guest rooms, all decorated to reflect the charm of this beautifully restored home from the 1800's.
One bedroom has a King size bed, another room has a Queen size bed, and the third bed-room has a double bed and a single bed.
There is a shared bathroom with both bathtub and shower, and also an additional powder room.
Thank you, Mary, for such an enjoyable stay!
---
Have you ever thought about owning and operating your own Bed & Breakfast?
Click Here for valuable information about a new step-by-step Guide which shows you how to start and operate your own successful Bed and Breakfast business, from the ground up!
Bed and Breakfasts are the fastest growing sector of the tourism industry today, and it is predicted to grow by leaps and bounds over the few years.
This e-book is easily down loaded, and you can be reading it, and learning, 10 minutes from NOW!
---